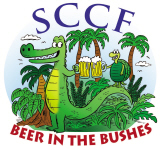 Sanibel Captiva Conservation Foundation presents
"Beer in the Bushes"
fund raiser. This is a Craft Beer Tasting with Great Sunset, Live Music, Dancing and Beer Food. This "fun-raiser" is a great time for all guests. The attire is casual the music is outstanding, and the micro brews are fabulous.
Beer in the Bushes is possibly the most fun you will have at any Island Fundraising Event (yes, as an SCCF Board Member, Mary Ellen is biased). Under the stars at the Nature Center, guest enjoy all sorts of fun. Micro brews from all over are there for you to sample and often a vote for your favorite can be cast. Each ticket also comes with Trucks Bucks to be spent on a variety of food trucks that offer several different delicious options. Be sure to wear comfortable shoes so you can wander along the nature paths and boardwalks. But, most of all, be ready to dance, dance, dance!
2018 Beer in the Bushes features the funk soul music of Keller Williams and More Than a Little. Keller Williams combines R & B and Funk with More Than A Little up front singers that get a crowd moving. Tickets for this event will sell out quickly.
2017 Beer in the Bushes: SCCF was honored to have G. Love and Special Sauce perform on the Beer in the Bushes stage to a sold out crowd. It was a non-stop dance party and quite a concert. G. Love aka Garrett Dutton has strong roots on Sanibel and visits his family here on the islands every year. Garrett began playing music at an age when he picked up a guitar and wrote his first song in 9th grade. He is the ultimate showman on stage and keeps a crowd engaged and entertained.
Where: SCCF Nature Center, Boardwalks and Trails (3333 San-Cap Road) More Information: 239-472-2329 The Sanibel-Captiva Conservation Foundation, Inc. is dedicated to the conservation of coastal habitats and aquatic resources on Sanibel and Captiva and in the surrounding watershed.
Pictured below: Garrett Dutton aka G. Love with Eric and Mary Ellen BITB 2017 & Eric and Mary Ellen Pfeifer ready to get Funky with Keller Williams and More Than a Little.