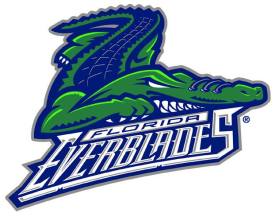 The Florida Everblades Hockey franchise was founded in 1998 by Craig Brush (President & General Manager), Peter Karmanos Jr. (Chairman and CEO Compuware Corporation) and Thomas Thewes.
They won the Eastern Conference title during their 2003-04 season and became the first team in history to make back to back trips to the Kelly Cup Finals.
The Everblades Hockey season runs from October thru April with many home games to select from. Germain Arena is home to the Everblades and so much more. It is one of Southwest Florida's finest entertainment venues. They have hosted many sporting events including Arena football, Ultimate Indoor Football, NBA games, NHL games and more.