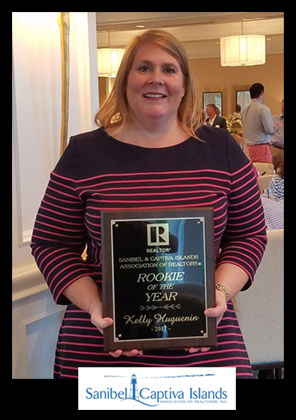 Pfeifer Realty Group Realtor Kelly Huguenin was named the 2017 Real Estate Rookie of the Year by the Sanibel Captiva Island Association of Realtors (SCIAR). The recipient of this award must be a new member to the SCIAR having joined within 18 months, and be inducted into the Honor Society. The Rookie of the Year award acknowledges an agent's professionalism in addition to their participation in the Association and the island community. "I am so proud of Kelly for her accomplishment as well both Kerri Maw and Liz Podolsky were who also inducted into the Honor Society and were both eligible for Rookie of the Year." said Broker Eric Pfeifer. "Having been named Rookie of the Year in 2002 when I was a new Realtor, it is an honor that 3 of the last 4 years the real Estate rookie has come from our brokerage." added Pfeifer.
Kelly Huguenin grew up in Chattanooga, Tennessee and received a Bachelor degree in Business from Covenant College. She began her career in 1992 with SunTrust, in the mortgage department and during her first year of production; she was named Rookie of the Year by Mortgage Bankers Association and SunTrust. Her production and level of service only continued to improve throughout her 24 years with SunTrust. Year after Year, she has been named a top producer for the city of Chattanooga, from the Mortgage Bankers Association and was part of the Presidents Club for highest producers with SunTrust.
Her husband, Mark introduced her to this wonderful island back in the early 90's and they have been vacationing here since. Her first trip here, she was sold. Kelly instantly fell in love with the charm and beauty of the island, and decided that they needed to buy a second home on Sanibel. With each visit it became harder for them to leave. After much consideration, they sold their home in Chattanooga and made the move. Mark and Kelly, along with their dog Madison have been here full-time since July of 2016 and have been enjoying the great life that Sanibel has to offer. "When we moved to Sanibel in 2016 we had no idea what the future would hold. This island and its residents are simply the best and I love helping others make their transition to paradise" said Huguenin. "I am so excited and proud to be chosen for Rookie of the Year from the group of well-deserving nominees. Real estate has always been my passion and my mortgage lending background has given me a different perspective as a Realtor. I love working with people, and helping my clients find their island home is a not just a job to me. It's my passion." continued Huguenin.