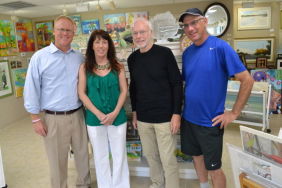 ISLANDER NEWSPAPER ARTICLE: February-25-2015
Eric Pfeifer's island real-estate firm in 2014 sponsored a film about life in Sanibel.
It was an unusual move for a former civil engineer with a decided left-brain way of looking at life.
Pfeifer was stunned by the reaction of the documentary produced by David Carter, an Emmy-winning islander. Acceptance and appreciation for "Growing Up on Sanibel" at the BIG ARTS performance center was so overwhelming, Pfeifer said, that he and his wife, Mary Ellen, have sponsored a second film that premieres March 5, with plans for two more in the works.