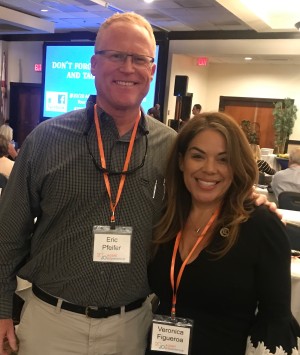 Eric Pfeifer, Broker/Owner of Pfeifer Realty Group recently attended the 2020 Agent Experience as a Real Estate Industry Expert Panelist. This one-day conference included an action-packed agenda designed to help Realtors and Agents prepare their mindset and their business goals to help them soar into the next year and new decade. Expert panelists and speakers were gathered from across the country to motivate and educate fellow real estate professionals on a variety of topics.
"It was humbling to be asked to field questions as a "local expert" along side other very accomplished experts," shared Pfeifer. "We sometimes forget how much we can learn from one another and take our own knowledge base and experiences for granted. It is extremely rewarding to be asked to give back to fellow Realtors," continued Pfeifer.
Topics covered at the 2020 Agent Experience included the power of mindset, business planning for 2020, building strong relationships, and Pfeifer's favorite topic getting involved and giving back. Joining Eric Pfeifer on the Industry Experts Panel were David Cribbs with Florida Luxury Realty, Jane Bond with Compass Realty, George Oberdoster with MVP Realty, and Veronica Figueroa with eXp Realty. Additional guest speakers included Kirtus Dixon, Gene Frederick, Pat Hays, A.J. Ackerman, and Gogo Bethke.
Eric Pfeifer has been a real estate professional since 2001 and opened Pfeifer Realty Group on Sanibel Island in 2008.
Related Articles: