For the Horse Enthusiast in Southwest Florida by Amy von Keyserlingk
When we first decided to move to Sanibel, I began dividing my search time between real estate websites and equine websites. I admit, it was tough getting used to the idea that I would have to spend time commuting over half an hour or more in order to see my horse, especially since I like to ride at least four days a week.
There are no longer any horses on Sanibel, and riding on the beach is prohibited. A friend of mine did have a small barn here with three horses and a dressage arena before moving away. It wasn't as fun as it might sound. It's almost impossible to sustain pasture grass, it's not easy to get farriers, veterinarians, or trainers to come over the causeway, and she had about a 3-hour round-trip to pick up hay, feed, and shavings.
Weather June-September is the rainy season which brings incredible heat and humidity. Covered arenas are helpful to keep the sun off, but when it rains here, it's often from a thunderstorm so there's too much lightening to safely ride even under a cover. We keep the weather app handy on our phones. If lightening is less than 7 miles away, we do not ride. Fortunately, these storms are usually over quickly. Riding early isn't much cooler but allows you to typically beat the afternoon pattern of storms. When looking at stables, be sure to ask just how wet they get in rainy season. Even though much of the soil is sand, continuous rains can saturate the ground.
Ah, but winters here are amazing! By November, the air becomes drier and the ground never freezes. Nearly every day is sunny, and the "cold" fronts are refreshing and rarely bring the temperatures below 60 degrees and last only a day or two. This beautiful weather lasts till early May. Body clipping is often necessary for the working horse who may still grow an unnecessary winter coat.
Health Care Bugs and fungal issues can be a problem, especially if you're thinking of just pasture board. Both of my horses had trouble with gnats when I boarded just south of the Caloosahatchee River. Some horses develop such allergic reactions to the pesky biting bugs that they require allergy shots or steroids. A stall with fans can provide relief from the bugs and sun. This will also provide shelter from rains that may lead to rain rot. Pre-ride cooling is one of my favorite techniques for dealing with the heat and avoiding anhidrosis. Not only does hosing off my horse before I ride cool her down, it also keeps my saddle pads a little cleaner. Then I stand her by the fan while I finish tacking up. Oddly enough, I find my saddle pad stays in place better on a damp back. Deworming should be done on a regular basis since the ground never freezes. I deworm my horse every 2 months on a schedule recommended by my veterinarian. Surprisingly, imported breeds seem to adapt just fine. Fjords from Canada or warmbloods from Europe do remarkably well and are no more bothered by the heat or bugs than thoroughbreds raised right here in Florida.
Avoiding Traffic: During peak tourist season (Jan.-April), traffic can be a challenge. Getting off the island from morning till about 2:00 pm is no problem. After that, expect to crawl. Getting on the island is slow-going from about 8:00 am-10:00 am. So, even if paradise comes with a price, to me, it's worth it. I never want to be bucked off onto frozen ground again (or any ground for that matter), pick muddy ice chunks out of my horse's hooves, stick a cold bit down my jacket to warm up before putting it in my horse's mouth, fumble with blanket buckles with numb fingers, nor worry about the water buckets freezing over. I'd rather sweat than freeze. And on the days that I'm not riding, I look for seashells, garden in my tropical yard, bike the paths on Sanibel, or paddleboard with the manatees and dolphins. Life is good here.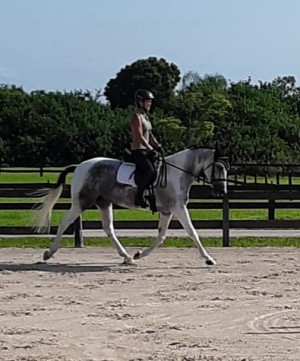 For more information feel free to contact Amy von Keyserlingk shown here with her horse Fiona.
Competitions:
Palm Beach International Equestrian Center (foxleafarm.net) World-class competitions are held all winter in Wellington, a less than 3-hour drive toward West Palm Beach on the east coast.
Foxlea Farms (foxleafarm.net) in Venice is only a 1 ½ hour drive toward Sarasota and holds great schooling and rated shows for all disciplines.
The Florida Horse Park in Ocala (flhorsepark.com) is an easy 4-hour drive hosting events for all disciplines.
Local Veterinarians
Van Roekel & Associates (vanroekelassociates.com)
Calusa Equine Veterinary 239.543.2506
Sunny Coast Equine Veterinary (sunnycoastvet.com)
Local Farriers
Newhorse.com farrier search
National Horse Farriers search (nationalhorsefarriers.com)
Fort Myers Stables: This list often changes, Facebook is probably one of the most up-to-date resources.
Coastal Farms (www.coastalfarmsfl.com)
Colloway Farms (collowayfarms.com)
Farasi Farms (farasifarmllc.com)
Winstar Farms (winstarfarmfl.com)
Orange Clover Stables (ocstables.us)
Five Star Stables (stableandtack.com)
Cape Coral Stables:
Saddlewood Horse Club (capehorses.com/Saddlewood_Horse_Club)
Bonita Springs / Estero Stables:
Providence Equestrian Center (providenceequestriancenter.com)
Nicole Olsen Equestrian Dressage (nicoleolsenequestrian.com)
Clubs and Organizations:
Southwest Florida Dressage Association (swfldressage.org)
4-H of Lee County—Facebook @leecountyfl4h -Fort Myers Pro Rodeo (fortmyersprorodeo.com)
Special Equestrians -Therapeutic Riding (specialequestrians.net)
Florida Horse Trials Assoc. (floridahorsetrialsassn.com/venues)
Trainers:
Margo Crowther -barrels (crowtherhorses.com)
Carol Wilson -H/J, lower level dressage (winstarfarmfl.com)
Nicole Olsen -dressage (nicoleolsenequestrian.com)
Cheryl Quinn -dressage (en-gb.facebook.com/SWFLMagnaWave)
Dustin Durham - H/J (durhamequestrian.com)