Below is a summary of Eric Pfeifer's 2021 Team sales as they occur throughout Sanibel, Captiva Ft. Myers, and Bonita Springs. Scroll down this page to view every property we've sold YTD.
Pfeifer's YTD Sales Activity:
241 Properties Sold

277 Families Helped
RESOURCE LINKS
This graph below shows our sales over the past 8 years.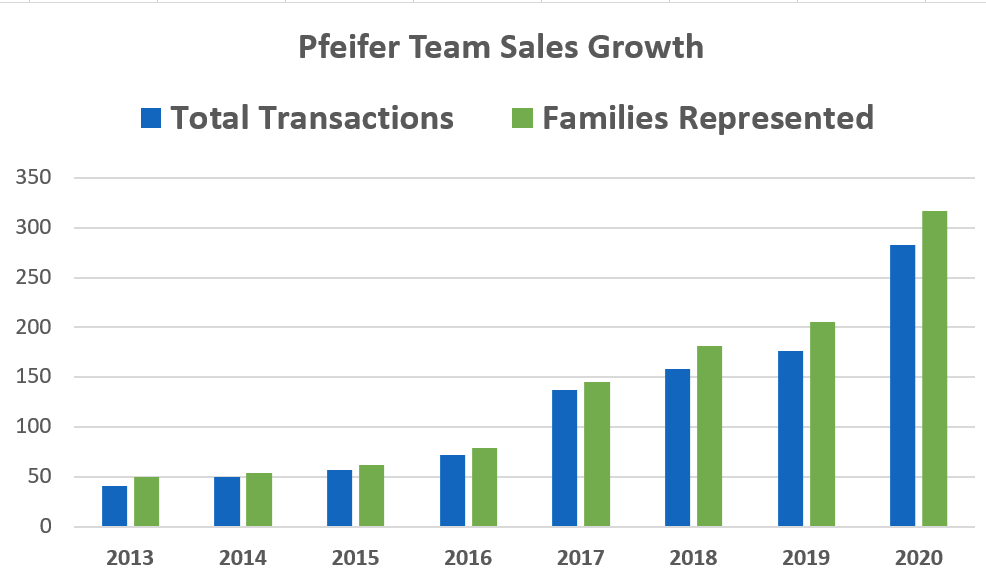 List of All Our 2021 YTD Sales:
KEY: (P) = Pending (*) = Both Buyer & Seller
RESIDENTIAL:
1001 East Gulf Drive 20/21 Crossover Closing
1027 Sand Castle Road 20/21 Crossover Closing *Represented Both Buyer and Seller
1029 Dixie Beach Boulevard *Represented Both Buyer and Seller
1050 White Ibis Drive
1052 Fish Crow Road
1073 Sand Castle Road 20/21 Crossover Closing
11225 Lithgow Lane
11225 Paddington Terrace
1133 Buttonwood Lane
11514 Andy Rosse Lane (P)
1155 Sand Castle Road
1158 Harbour Cottage Court
1160 Martin Court
1226 Isabel Drive 20/21 Crossover Closing
12309 Fachada Street 20/21 Crossover Closing
1253 Anhinga Lane
1259 Par View Drive
1266 Isabel Drive *Represented Both Buyer and Seller
12710 Chatham Drive 20/21 Crossover Closing
12927 Iona Road
1296 Par View Drive (P)
1313 Par View Drive 20/21 Crossover Closing
1318 Par View Drive
13355 Broadhurst Loop
13488 Villa Di Preserve Lane
1365 Maleleuca Lane (P)
1373 N. Brandywine Circle
14409 Blue Bay Circle (P)
14611 Jonathan Harbour Drive
1469 Sand Castle Road (P) *Represented Both Buyer and Seller
1474 Xavier Avenue (P)
14835 Blue Bay Circle 20/21 Crossover Closing
1534 Beachwood Trail
15361 Captiva Drive
1560 Royal Poinciana Drive
1577 Sand Castle Road
15840 South Pebble Lane (P)
15841 Turnbridge Court
1585 Serenity Lane (P)
1605 Sand Castle Road (P)
161 Egret Street (P)
1612 Serenity Lane (P)
1643 Bunting Lane (P) *Represented Both Buyer and Seller
16447 Captiva Drive
1667 Atlanta Plaza 20/21 Crossover Closing
1672 Hibiscus Drive *Represented Both Buyer and Seller
1680 Hibiscus Drive
1695 Serenity Lane *Represented Both Buyer and Seller
1706 Skyline Blvd. 20/21 Crossover Closing
17203 Wrigley Circle 20/21 Crossover Closing
1743 Venus Drive 20/21 Crossover Closing
17438 Elk Grove Lane (P) 20/21 Crossover Closing
17773 Vaca Court 20/21 Crossover Closing
18570 Cypress Haven Drive
1890 Middle Gulf Drive
1942 Roseate Lane
1985 Sanibel Bayou Road
19950 Chapel Trace
2010 Wild Lime Drive
2015 Wild Lime Drive
22 Catalpa Court
220 Columbus Avenue
2355 Wulfert Road
2417 Orchard Street
2422 NW 20th Avenue
2441 Shop Road
24676 Claire Street
2479 Harbour Lane *Represented Both Buyer and Seller
25100 Pennyroyal Drive 20/21 Crossover Closing
2563 Coconut Drive *Represented Both Buyer and Seller
2755 Wulfert Road (P)
2857 Wulfert Road Represented Both Buyer and Seller
2984 Island Inn Road 20/21 Crossover Closing
2985 Island Inn Road
3019 Poinciana Circle *Represented Both Buyer and Seller
3020 Turtle Gait Lane 20/21 Crossover Closing *Represented Both Buyer and Seller
3031 Poinciana Circle *Represented Both Buyer and Seller
3085 Poinciana Circle *Represented Both Buyer and Seller
315 East Gulf Drive 20/21 Crossover Closing
317 East Gulf Drive
3570 Bunny Lane
3827 Coquina Drive 20/21 Crossover Closing
4067 West Gulf Drive 20/21 Crossover Closing
42 Oster Court
4202 Old Banyan Way
458 Casa Ybel Road *Represented Both Buyer and Seller
4648 Buck Key Road
4661 Rue Bayou
4664 Rue Belle Mer *Represented Both Buyer and Seller
4776 Fairloop Run
482 Lake Murex Circle 20/21 Crossover Closing
4837 East Riverside Drive (P)
486 Surf Sound Court (P)
488 Lighthouse Way *Represented Both Buyer and Seller
490 Sawgrass Place
4955 Joewood Drive
4960 Baybridge Boulevard
513 Lighthouse Way *Represented Both Buyer and Seller
528 Kinzie Island Court (P) *Represented Both Buyer and Seller
5403 Shearwater Drive
5423 Shearwater Drive (P)
5161 Sanibel Captiva Road (P)
5773 Sanibel Captiva Road
5859 Pine Tree Drive (P)
613 Lake Murex
640 Periwinkle Way
649 Sea Oats Drive
660 Oliva Street 20/21 Crossover Closing
677 Anchor Drive 20/21 Crossover Closing
718 Durion Court 20/21 Crossover Closing
718 Gopher Walk Way (P)
742 Sand Dollar Drive
751 Windlass Way
761 Nerita Street (P) 20/21 Crossover Closing
7682 Cypress Walk Drive
784 Birdie View Point
796 96th Avenue North
813 Angel Wing Drive
820 Angel Wing Drive
829 Birdie View Point
837 Sand Dollar Drive
8869 Spring Mountain Way
888 Rabbit Road
915 Fitzhugh Street (P) *Represented Both Buyer and Seller
718 Gopher Walk Way (P)
9190 Marigold Court
9211 Dimmick Drive
9277 Dimmick Drive 20/21 Crossover Closing *Represented Both Buyer and Seller
940 Whelk
9421 Moonlight Drive
956 Dixie Beach Boulevard
957 Cabbage Palm Court (P) 20/21 Crossover Closing
974 Greenwood Court (P) *Represented Both Buyer and Seller
976 Greenwood Court *Represented Both Buyer and Seller
9957 Vanillaleaf Street
999 East Gulf Drive (P) *Represented Both Buyer and Seller
PFEIFER TEAM 2021 CONDOMINIUM SALES YEAR TO DATE:
Amberwood Lake 3
Beachcomber D 101 *Represented Both Buyer and Seller
Beach Cottages 1423 (P)
Bermuda Bay Way 201
Bermuda Cays 201
Blind Pass D 203
Blind Pass E 104 (P)
Blind Pass E 207
Blind Pass G 201 20/21 Crossover Closing *Represented Both Buyer and Seller
Blind Pass G 104
Boca Vista Harbor A503
Breakers West B5 20/21 Crossover Closing
Captains Walk B5 (P)
Carriage Homes at Woods Edge 204
Compass Point 102
Cottage Colony West 102 (P)
Coquina Beach 3 D (P)
Creekside Preserve 201
Cyprina Beach 3
Grand Cypress 201
Heron at the Sanctuary 2B
Heron at the Sanctuary 3A (P)
Hickory Bay West 603 (P)
Hickory Shores 6
Hideaway Beach 623 (P)
Junonia 103 20/21 Crossover Closing *Represented Both Buyer and Seller
Kelly Greens 614
Kimball Lodge 302
Little Hickory Bay 409 (P)
Loggerhead Cay 261
Loggerhead Cay 572
Mariner Pointe 1091
Mariner Pointe 421 20/21 Crossover Closing
Mill Run II 3906
New Port Glen Unit E 20/21 Crossover Closing
Oaks at Whiskey Creek 421 20/21 Crossover Closing
Oceans Reach 1C1
Ocean's Reach 3A2 *Represented Both Buyer and Seller
Pelican's Roost 102 (P)
Pelican's Roost 203
Pointe Santo B 3 20/21 Crossover Closing
Pointe Santo B 26
Pointe Santo D 24 (P) *Represented Both Buyer and Seller
Pointe Santo D 35 *Represented Both Buyer and Seller
Pointe Santo E 2
Punta Rassa 3-204 (P)
River's Reach 2125
Royal Harbour 423
Sandalfoot 3C1
Sandals A
Sanddollar A 101
Sanddollar C 103 (P)
Sanddollar C 201
Sand Pointe 217
Sanibel Arms West A-1
Sanibel Arms West B-2
Sanibel Arms West B-5 *Represented Both Buyer and Seller
Sanibel Arms West H-5 (P)
Sanibel Arms West I-4
Sanibel Arms West I-8 (P)
Sanibel Arms West J-5
Sanibel Moorings 1512 *Represented Both Buyer and Seller
Seaglass 305
Shores at Gulf Harbour 523 20/21 Crossover Closing
Spanish Cay B2 *Represented Both Buyer and Seller
Spanish Cay B5
Spanish Cay F5 *Represented Both Buyer and Seller
Somerset at the Reef D 102
Somerset at the Reef D 302
Sundial L 205 (P) 20/21 Crossover Closing
Sundial West H 107
Sundial T 405
Sunset South 4D (P)
Sunset South 10C
Terrace II at Riverwalk 345 (P)
Turtle Lake Golf Colony 102
Verandah 201 (P)
Village at Cedarbend 3
Wind Jammer Village 1D
White Sands 13
PFEIFER VACANT LAND SALES YEAR TO DATE:
0 Bunting Lane
0 Rue Bayou (P)
1044 Fish Crow Road
1159 Golden Olive Court
1226 Isabel Drive (P) 20/21 Crossover Closing
1318 Par View Drive
2299 Starfish Lane (P)
2325 NW 26th Street (P)
2310 Wulfert Road (P) *Represented Both Buyer and Seller
239 Robinwood Circle (P)
245 Robinwood Circle
255 Robinwood Circle
2933 Wulfert Road
3941 West Gulf Drive
5116 Sea Bell Road (P) 20/21 Crossover Closing
5148 Sea Bell Road (P)
539 Sea Oats Drive
5687 Baltusrol Court
5749 Sanibel Captiva Road
602 Boulder Drive
6505 Pine Avenue (P)
667 Birdie View Pointe *Represented Both Buyer and Seller
6919 Pine Avenue (P)
971 Main Street
Summerlin/McGregor 3 Lots
PFEIFER COMMERCIAL SALES YEAR TO DATE:
KEY: (P) = Pending Sale (*) = Represented Both Buyer and Seller (2x) = Sold the Property Twice
Related Articles: