Below is a summary of Eric Pfeifer's 2020 Team sales as they occur throughout Sanibel, Captiva Ft. Myers and Bonita Springs. Scroll down this page to view every property we've sold YTD.
Pfeifer's YTD Sales Activity:
281 Properties Sold

316 Families Helped
RESOURCE LINKS
This graph below shows our sales over the past 8 years.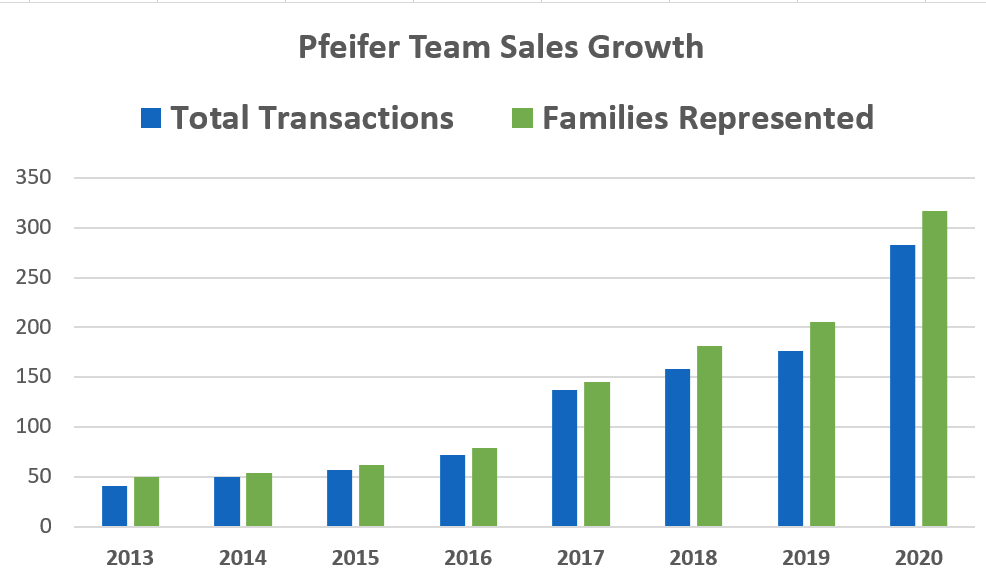 Complete List of Pfeifer's 2020 Sales:
KEY: (P) = Pending (*) = Both Buyer & Seller
RESIDENTIAL:
1001 East Gulf Drive (P)
1003 McGregor Park Circle
1014 South Yachtsman Drive
1018 Dixie Beach *Represented Both Buyer and Seller
10182 Avalon Circle
1027 Sand Castle Road (P) *Represented Both Buyer and Seller
105 Andre Mar
1068 White Ibis Drive
10719 Bahia Terrado Circle 19/20 Crossover Closing
1073 Sand Castle Road (P)
1081 Captains Walk Street
11108 Yellow Poplar Drive 19/20 Crossover Closing
1120 Olga Avenue
1121 Skiff Place
11423 Tiverton Trace
11523 Andy Rosse Lane
1152 Buttonwood Lane
1199 Par View Drive
1220 Sand Castle Road
1226 Isabel Drive (P)
1227 Hazeltine Drive
1230 Bay Drive
12304 Boat Shell Drive
12309 Fachada Street (P)
1244 Par View Drive
12710 Chatham Drive (P)
12796 Fairway Cove
1313 Par View Drive (P)
1329 Eagle Run Drive
1333 Eagle Run Drive 19/20 Crossover Closing
1352 Eagle Run Drive
1406 Causey Court *Represented Both Buyer and Seller
1414 Causey Court
1420 Reynard Drive
1425 Dubonnet Court
1426 Causey Court
1430 Causey Court
1437 Causey Court *Represented Both Buyer and Seller
1467 Sand Castle Road
1476 Sand Castle Road
14881 Laguna Drive
14835 Blue Bay Circle (P)
13181 Heather Ridge Loop
13896 Village Creek Drive
14708 Summer Rose Way
15110 Intracoastal Court
1559 Sand Castle Road
1561 Sautern Drive
15661 Beachcomber Avenue
1573 Sand Castle Road
15747 Caloosa Creek Circle
15877 Gleneagle Court
15922 Cutters Court *Represented Both Buyer and Seller
15960 Cindy Court
1607 Sand Castle Road
1616 North Old Burnt Store Road
16320 Coco Hammock Way
16472 Rainbow Meadows Court
1653 Bunting Lane
1667 Atlanta Plaza (P)
16727 Pheasant Court
16801 Captiva Drive
16861 Fox Den Road
1695 Serenity Lane
1706 Skyline Blvd. (P)
1717 Sand Pebble Way
1717 Venus Drive
17203 Wrigley Circle (P)
1724 Bunting Lane
1727 Palaco Grande Parkway
1743 Venus Drive (P)
17438 Elkgrove Lane (P)
1764 Bunting Lane
1774 Bunting Lane *Represented Both Buyer and Seller
17773 Vaca Court (P)
18910 Knoll Landing Drive
19501 The Place Boulevard
1978 Roseate Lane
215 Robinwood Circle
2150 Egret Circle
2154 Starfish Lane
23022 Crookedwood Loop
23088 Shady Knoll Lane 19/20 Crossover Closing
2343 Wulfert Road
23431 Coral Bean Court
2449 Heydon Circle
2460 Harbour Lane *Represented Both Buyer and Seller
247 Christofer Court *Represented Both Buyer and Seller 19/20 Crossover Closing
2477 Wulfert Road
2480 Library Way
25100 Pennyroyal Drive (P)
2656 Shriver Drive
27034 Oakwood Lake Drive
27592 Woodridge Road
280 Southwinds Drive
2857 Wulfert Road
2984 Island Inn Road (P)
3020 Turtle Gait Lane (P) *Represented Both Buyer and Seller
315 East Gulf Drive (P)
3351 Barra Circle *Represented Both Buyer and Seller
3358 Saint Kilda Road
3827 Coquina Drive (P)
3867 McGregor Boulevard
3926 Coquina Drive
4031 Rita Lane (P)
4067 West Gulf Drive (P)
4086 Cherry Brook Loop
433 Lake Murex Circle
4510 Mystic Blue Way
457 Lake Murex Circle
4565 Mystic Blue Way
4576 Watercolor Way 19/20 Crossover Closing
4619 Brainard Bayou Road
4767 Tradewinds Drive *Represented Both Buyer and Seller
478 Sea Oats Drive
482 Lake Murex Circle (P)
500 Sawgrass Place
500 Sea Oats Drive
5044 Joewood Drive
5056 Joewood Drive
5303 Ladyfinger Lake
5304 Umbrella Pool
537 Lake Murex Circle
54 Timberland Circle
543 Boulder
549 East Rocks Drive *Represented Both Buyer and Seller
5672 Sanibel Captiva Road
5834 Pine Tree Drive
592 Sea Oats Drive
599 Lake Murex Circle
656 Gopher Walk Way
660 Durion Court *Represented Both Buyer and Seller
660 Oliva Street (P)
676 Emeril Court
677 Anchor Drive (P)
690 Durion Court
707 Anchor Drive 19/20 Crossover Closing
718 Durion Court (P)
7217 Emily Drive
7238 Emily Drive *Represented Both Buyer and Seller
730 Cardium Street
761 Nerita Street (P)
766 Donax Street
790 Beach Road
792 Birdie View Pointe
833 Cypress Lake Circle *Represented Both Buyer and Seller
834 Lake McGregor Drive
842 Limpet Drive
847 Lindgren Blvd.
872 Limpet Drive
8898 Dartmore Way
8970 Woodgate Court
901 South Yachtsman Drive
9024 Mockingbird Drive
9052 Mockingbird Drive 19/20 Crossover Closing
9057 Mockingbird Drive *Represented Both Buyer and Seller
911 South Yachtsman Drive
9113 Mockingbird Drive
915 Main Street
919 Pecten Court
9220 Isla Bella Circle
9248 Dimmick Drive
9277 Dimmick Drive (P) *Represented Both Buyer and Seller
9307 Dimmick Drive
938 Pecten Court
9393 Peaceful Drive
9418 Moonlight Drive
9426 Beverly Lane
9446 Beverly Lane 19/20 Crossover Closing
957 Cabbage Palm Court (P)
965 Beach Road
970 Black Skimmer Way
9740 Mainsail Court
Orange Blossom Ranch New Construction (P)
PFEIFER TEAM 2020 CONDOMINIUM SALES YEAR TO DATE:
Altessa at Vasari 102
Bay Harbor Club 10A
Bay Village 266
Beach Villas 2227
Blind Pass B111
Blind Pass E205
Blind Pass E207 *Represented Both Buyer and Seller 19/20 Crossover Closing
Blind Pass F204
Blind Pass G201 (P) *Represented Both Buyer and Seller
Bonita National 8902
Breakers West B5 (P)
Carlos Pointe Beach Club 516
Cielo at the Colony 101
Club at Crystal Lake 5
Compass Pointe 222 *Represented Both Buyer and Seller
Coquina Beach 5B *Represented Both Buyer and Seller 19/20 Crossover Closing
Cottage Colony West 134
Davis Court 222
Davis Court 225
Davis Lake 421
Davis Lake 511
Davis Lake 622 *Represented Both Buyer and Seller
Davis Woods 616 *Represented Both Buyer and Seller 19/20 Crossover Closing
Davis Woods 216
Dolce Vista 101 19/20 Crossover Closing
Gulfside Place 214
Harbor Place Vista 101
High Point Place F 2206
High Tide A 101
High Tide B 302
Imperial Shores 1
Imperial Shores 2
Island Beach Club 220B
Junonia 103 (P) *Represented Both Buyer and Seller
Las Brisas At Spanish Wells #201
Lexington Country Club 302
Loggerhead Cay 134 19/20 Crossover Closing
Loggerhead Cay 332
Loggerhead Cay 461 *Represented Both Buyer and Seller
Loggerhead Cay 573
Mariner Pointe 421 (P)
Mastique Beach 1703
Mastique Beach 804
Marabella 912
Marina Towers 804
McGregor Park Circle 301
Moonshadows 1F
Naples Walk 2404
New Port Glen Unit E (P)
Oaks at Whiskey Creek 421 (P)
Parkside 203 Unit 7
Paseo 7807
Plantation Village 222 *Represented Both Buyer and Seller
Pointe Royale 1301
Pointe Santo B3 (P)
Pointe Santo D21
Pointe Santo D47
Retreat Waterside II 9-201
Rivers Edge 2
Sandarac 601 B
Sand Pebble 2B
Sand Pebble 2F
Sand Pebble 4E
Sandpiper Beach 202
Sand Pointe 131
Sand Pointe 132
Sand Pointe 212 *Represented Both Buyer and Seller
Sand Pointe 227
Sanibel Arms West B 4
Sanibel Arms West I 7
Sanibel Surfside 126 *Represented Both Buyer and Seller
Sanibel Surfside 132 *Represented Both Buyer and Seller
Sanibel Moorings 311 *Represented Both Buyer and Seller
Sanibel Moorings 932 *Represented Both Buyer and Seller
Sayana of Sanibel 103
Seawind A 103
Seawind A 107
Seawind II 2
Sail Harbour 102
Shores at Gulf Harbour 523 (P)
Shores at Gulf Harbour 722
Spanish Cay F6 *Represented Both Buyer and Seller
Sundial B406
Sundial H208
Sundial L205 (P)
Sunset South 2C
Sunset South 11A
Sunward of Sanibel 201
Tamarand Cay 1404
Tennisplace B 24
Ventura Captiva 2B
Villa Sanibel 3A
Wedgewood 102
Whiskey Preserve 345
Windward Pointe 108 *Represented Both Buyer and Seller
Windward Point 511
Woodsedge 104
PFEIFER VACANT LAND SALES YEAR TO DATE:
1226 Isabel Drive (P)
14130 Binghamton Drive 19/20 Crossover Closing
23022 Crooked Wood Loop
2486 Wulfert Road
2297 Wulfert Road
4767 Tradewinds Drive *Represented Both Buyer and Seller
486 Ponce de Leon Road
4995 Joewood Drive
5116 Sea Bell Road (P)
PFEIFER COMMERCIAL SALES YEAR TO DATE:
1509 Periwinkle Way
Tropical Touch Spa *Represented Both Buyer and Seller
KEY: (P) = Pending Sale (*) = Represented Both Buyer and Seller (2x) = Sold the Property Twice
Related Articles: